Three Things
Three Things: Mistakes, Creativity, and Field Trips
Here are three things that have been on my mind.
I.
You can save yourself some time by learning from other people's mistakes as much as possible. It's easy to think that we are somehow different than everyone else. That somehow we are able to avoid outcomes that our fellow human beings just couldn't escape. The truth is we can save ourselves some trouble by studying what people have already learned from the past.
II.
Often, movement is the precursor to creativity.
III.
"One of the most rewarding aspects of being a teacher is building relationships. Getting to know my students beyond their academic capabilities and seeing them develop into well-rounded humans is a gift." [source]
Some of my best memories as a teacher come from field trips that weren't supposed to be educational. Those downtimes are when you can get to know each other in a way that's slightly different than in the classroom teacher-student interactions. If you can't take a trip, find ways to incorporate some downtime during a school week. The more you get to know your students the easier it is to work with them.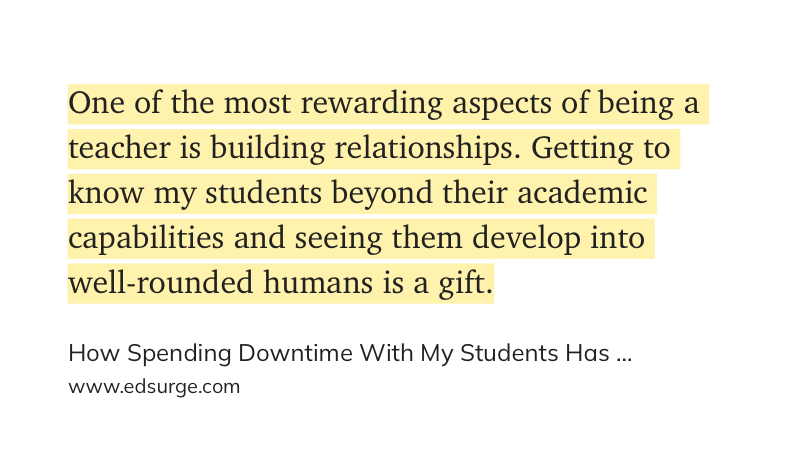 ---
🗒 Try using Notion to organize your personal and professional life, group projects, and everything else you learn along the way #NotionPartner.
☑ Ready for a challenge? Thirty-Day Challenges are a powerful tool for personal growth and development. By committing to a small challenge for a short period of time, you will build new habits, break old ones, and learn more about yourself in the process.
Three Things is a record of thoughts, questions, inspiration, gratitude, and things that made my day better or made me better. Once written, I send them out into the world. Cue serendipity.