Weekly Report
You're Awesome - Thank You For Your Support
Since the inception of the TGIF Teacher Newsletter, our community has grown, attracting 445 incredible members like yourself.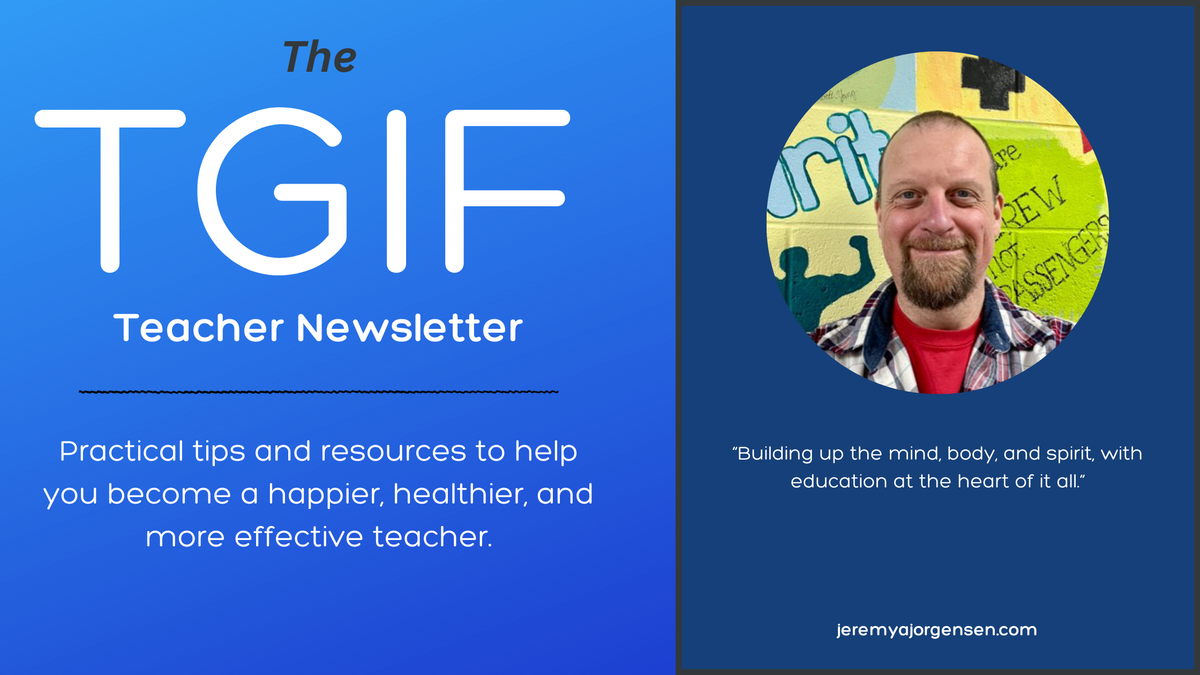 First off, I want to express my heartfelt gratitude for being a valued member of our community. Your dedication to education and your continuous support means the world to me.
Since the inception of the TGIF Teacher Newsletter, our community has grown, attracting 445 incredible members like yourself. I've now published 91 newsletters in a row. Shout out to my wife and mom, the first two subscribers 🥰!
I have three goals for the weekly newsletter.
Empowering Teachers: I strive to create a newsletter that is not only useful and informative but also serves as a source of inspiration for teachers like you. By supporting this newsletter, you help me continue to curate valuable content that enriches your professional journey.
Sustainability: Maintaining this newsletter platform comes with a cost. I currently invest nine dollars per month, plus an additional twelve dollars per year for the domain. However, as our community grows, so does our potential. When we reach 500 subscribers, the cost increases to $25 per month. Your support ensures the longevity and sustainability of the TGIF Teacher newsletter.
Expanding Our Reach: Education is a shared responsibility, and I believe in the power of collaboration. By supporting the TGIF Teacher Newsletter, you contribute to our mission of reaching as many educators as possible.
Here are some meaningful ways you can contribute:
Shop with Purpose: If you're an Amazon shopper, consider using this gadget guide to support our site. Even if your purchase is unrelated to education, it will still contribute to the growth and sustainability of this site, at no additional cost to you.
Buy Me a Coffee: Show your appreciation and support by using Buy Me a Coffee. Your contribution goes directly towards enhancing the quality and reach of this newsletter, ensuring valuable content week after week.
Spread the Word: Share the TGIF Teacher Newsletter with your colleagues and on social media using the hashtag #whyedify. By spreading the word, you help us expand our community and reach even more educators who can benefit from our shared knowledge and experiences. Let's connect.
Your Feedback Matters: I value your input and insights. Share your thoughts on how I can make the newsletter even better. Recommend resources that you believe other educators would appreciate. You can simply respond to this email.
Share Your Story: Consider leaving a positive review like these on the newsletter landing page. Your testimonials not only bring me joy. It also inspires others to join our growing community of dedicated educators.
Show Your Teacher Pride: Explore our collection of teacher gear and make a purchase that not only showcases your dedication but also supports our newsletter.
Your support makes a difference.
Thank you for considering supporting the TGIF Teacher Newsletter.
With deep appreciation,
Jeremy