Benefits of Using Paper Interactive Notebooks: Enhancing Student Engagement and Critical Thinking in the Classroom - Ideas and Resources
In this post, we'll explore some of the benefits of using paper interactive notebooks in education and provide tips on how to use them in the classroom.
As an Amazon Associate, I earn from qualifying purchases. All affiliate links are marked with an asterisk (*). This helps support the newsletter. Thank You! Read more here.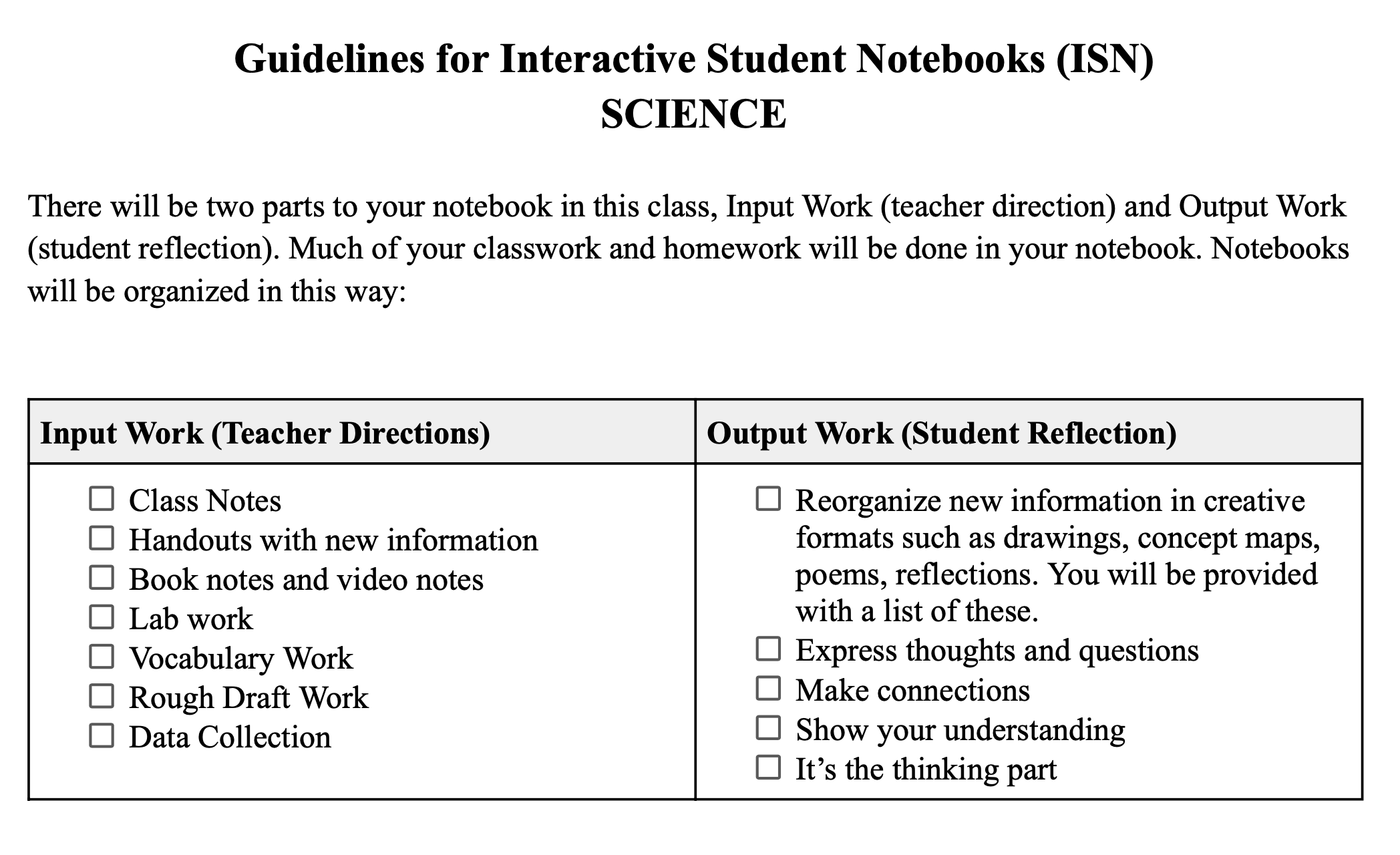 I'm in my 25th year of teaching. At that time I started using paper notebooks, switched to digital, and now am moving back to analog notebooking. The use of paper, pens, and pencils seems to provide a needed balance as screen time continues to increase.
As an educator, I have seen the benefits of using notebook paper in the classroom. Interactive notebooks are a fantastic tool that can encourage active learning, promote critical thinking, and enhance memory retention and recall. In this post, we'll explore some of the benefits of using paper interactive notebooks in education and provide tips on how to use them in the classroom. At the bottom of this post, you'll also find some of my favorite materials and resources. You'll see examples of what I've used in the past (downloadable). Please use them "as is" or feel free to add your own personal touches.
I'll continue to add to this post as I try new interactive notebook ideas in my classroom or come across useful resources.
Benefits of Interactive Notebooks
Interactive notebooks are a great way to encourage student engagement and promote active learning. They help students with organization and note-taking, which is essential for retaining information. Interactive notebooks also promote critical thinking and problem-solving skills, which are critical for success in today's world. They offer a blank canvas for idea generation and metacognitive reflection.
How to Use Interactive Notebooks in the Classroom
To get the most out of interactive notebooks, it's essential to provide clear instructions and incorporate interactive activities and tools. Using rubrics to assess student work can also be helpful in ensuring that students understand what is expected of them. I've found that offering students a specific structure to follow is more successful than if I left the organization up to the individual student.
Examples of Interactive Notebook Activities
There are several different types of activities that can be used in interactive notebooks, including graphic organizers, foldables, interactive diagrams, and note-taking templates. These activities can help students better understand complex topics and retain information. When I've done a nice job teaching with the notebooks they become a living portfolio that demonstrates learning and can also be used as an assessment tool.
Benefits of Using Paper Interactive Notebooks
Using paper notebooks in the classroom is a great way to reduce eye strain and visual fatigue caused by computer screens. Additionally, it can help improve posture and decrease the risk of repetitive stress injuries. Taking regular breaks from screens can also help increase productivity and improve focus by providing a mental reset and reducing the effects of digital overload.
Allows for more creativity as students can personalize their notebooks with different colors, drawings, and other decorations. I've been able to learn so much about my students simply by asking them questions about their design choices. It's helped me to build better relationships with the kids in my science classes.
Paper interactive notebooks are great because they offer a physical record of learning that I can easily refer to and review. Unlike digital notes that can get lost in a sea of files on my computer, paper notebooks provide a tangible way to see what students have and haven't learned. Reviewing them gives me a break from screen time as well.
Using paper notebooks can help students better retain information and improve memory recall through the physical act of writing and engaging with the material. When students write by hand, they are more actively engaged with the material and must process and synthesize the information in order to effectively summarize it. Writing by hand engages deeper cognitive processing, improving understanding and retention of information. It also creates a physical memory of the information, which helps with recall. When students revisit their notes later, they are more likely to remember the information because they have a physical and visual reminder of it in their notebooks. It's a multi-sensory experience.
Can be used as an assessment tool to track student progress and understanding. This is where using a well-made rubric pays off. I also review notebooks to assess the students' habits of scholarship. If you hand me a student's notebook, I'll know in five minutes what some of their strengths and challenges are.
Interactive Notebook Resources
If you're interested in using interactive notebooks in your classroom, there are several resources available online, including templates and instructional videos. Check out the links below to learn more (these links will be added when available):
My Go To Interactive Notebook Materials
❤ Enjoy this Newsletter?
🍵 Show Your Support, 🛍 Shop The Store, 👕 Buy Some Swag, 🤗 Share It