Teaching
How To Help Students Overcome Procrastination - Video, Tips, and Resources
Help students get more done and avoid the dark playground.
As an Amazon Associate, I earn from qualifying purchases. All affiliate links are marked with an asterisk (*). Thank You! Read more here.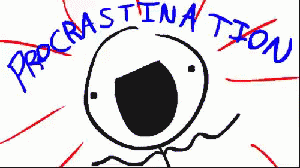 It's around this time of year that my 8th graders start preparing for their end-of-the-year portfolio passage presentations. It's a chaotic time of the school year and many students would like to slide into summer on cruise control. I'm writing this post as I am preparing a mini-lesson or two to help them procrastinate less.
We all procrastinate. Perfection is unattainable. The best we can do is to try to keep the instant gratification monkey 🐒 in check.
The Instant Gratification Monkey
I've shown this Ted Talk from Tim Urban for the past few years titled "Inside the Mind of a Master Procrastinator". The students understand it and it's funny. It's also a little sad when you think about people who get stuck in the "Dark Playground". Here's his full story about doing a Ted Talk.
This year I am also going to share some tips with my students in the hopes it might help them to overcome their tendencies to procrastinate. If you are a Quizziz user here is a link to a lesson I plan to use with my homeroom students. Here they are so far.
Tips to Help Students Overcome Procrastination
It's important to know why you procrastinate. It's hard to find solutions when the problem is not clearly defined. There are many reasons people procrastinate.
Reduce the number of decisions you make in a day. Try to make decisions ahead of time, or better yet, build habits that make life easier. This can free up energy to complete important tasks.
Get organized. Use your planner to schedule your time and to help you remember what needs to be done. Declutter. Clean your locker. Organize your email inbox. Take advantage of calendars and to-do lists in your LMS (we use Google Classroom).
Make the task/assignment more achievable. Commit to working on an assignment for short bursts of time, but do so consistently. Getting in the habit of starting is sometimes all that is needed.
Reward yourself. Celebrate each small victory. Do a little dance. Buy yourself a gift. Get creative.
Become one with a to-do list. Go analog or digital. It feels good to cross items off when they're completed. Build your list the night before or at the beginning of the day. Review your list throughout the day and take action.
📚 Books to Help Overcome Procrastination
As I said. Perfection is unattainable when it comes to procrastination. I know I would benefit from putting some of these tips to good use. I hope you've found something here you can use 😀.
❤ Enjoy this post?
Forward to a friend
and let them know where they can subscribe (hint:
it's here
). Send comments or just say "Hi" on Twitter -
@jeremyajorg
. If you haven't checked out the subscriber resources take a look
here
👀. Why Edify is a reader-supported publication. You can show your support by becoming a
monthly
or
yearly
member. 🙏
P.S. Recommendation: Fabulous. Born at Duke University, Fabulous uses behavioral science to help people make smart changes and build healthy habits. It's helped me build a solid morning routine. Build self-discipline and create positive structures in your daily life. After answering a series of questions Fabulous will build a plan just for you. Start building new habits with Fabulous today.