Book Summary
Storyworthy - Engage, Teach, Persuade, and Change Your Life Through the Power of Storytelling: Book Summary and Golden Lines
A book summary of Storyworthy - Engage, Teach, Persuade, and Change Your Life Through the Power of Storytelling along with a few Golden Lines.
As an Amazon Associate, I earn from qualifying purchases. All affiliate links are marked with an asterisk (*). Thank You! Read more here.
The Book in Three Sentences
There are great benefits for those who are always on the lookout for story-worthy moments.
Anyone can learn to tell a good story.
The world needs more great storytellers.
Golden Lines (description and free resource) - These are some of my favorite lines from the book along with my reaction.
"If I can recommend storytelling to you for any reason at all, it would be that storytelling helps you realize that the biggest, scariest, most painful or regretful things in your head get small and surmountable when you share them with two, or three, or twenty, or three thousand people."
It's true. You always feel better after you tell someone. Sharing makes the things in your head more manageable.
"I teach professors, schoolteachers, ministers, priests, and rabbis who want to improve their lectures and sermons and hold the attention of their audiences."
This was one of my reasons for reading this book. I was looking for ways to hold the attention of my students and improve relationships.
"I promise that whatever you do, storytelling will help."
I haven't tested this out yet. I did tell my homeroom students a story and in turn, they shared theirs. That went over pretty well.
"I've been a schoolteacher for almost twenty years, so it was only natural that I assign myself homework. I assigned myself Homework for Life. This is what I did..."
"Homework for Life" is what led me to this book. It's also my favorite section of the book. It's a practice of taking a few minutes each day to record the most story-worthy moments. I've done this for over a month. It's worth reading the book just for this section.
"There's an added bonus to Homework for Life. It's unrelated to storytelling, but it's worth mentioning. It might just be the most important reason to do the exercise. As you begin to take stock of your days, find those moments — see them and record them — time will begin to slow down for you. The pace of your life will relax."
"Every great story ever told is essentially about a five-second moment in the life of a human being, and the purpose of the story is to bring that moment to the greatest clarity possible."
I highlighted this because it seemed Zen-like. Good stories reveal the essence of the moment.
"Every Monday morning, I invite my fifth-grade students to share their One-Sentence Weekends. This is their opportunity to tell me the most important or momentous moment from their weekend."
I thought this was a great Monday morning idea to incorporate with students.
"When you are entertaining, people learn better. You convey information more effectively. You will become a better teacher, presenter, coach, salesperson, trainer, CEO, professor, parent, and dinner companion."
I don't know how entertaining I am, but the suggestions in this book will help. I think the act of carving out time to tell a story will be positive even if my initial skill is lacking. It will be even better if I can get my students to tell some stories.
"Storytellers have a superpower. They can make people feel good and whole and right. They can inspire and inform. They can make people see the world in a new way. They can make people feel better about themselves."
Truth. I am always impressed with someone who can tell a good story. When I am with my good friends we always tell the same stories over and over again, even when our wives roll their eyes. It's because well-told stories make you feel all warm and fuzzy on the inside.
I hope you enjoy this book as much as I did. I also enjoy reading Matthew Dicks' blog (Storyworthy author). Both the book and the blog are worth checking out.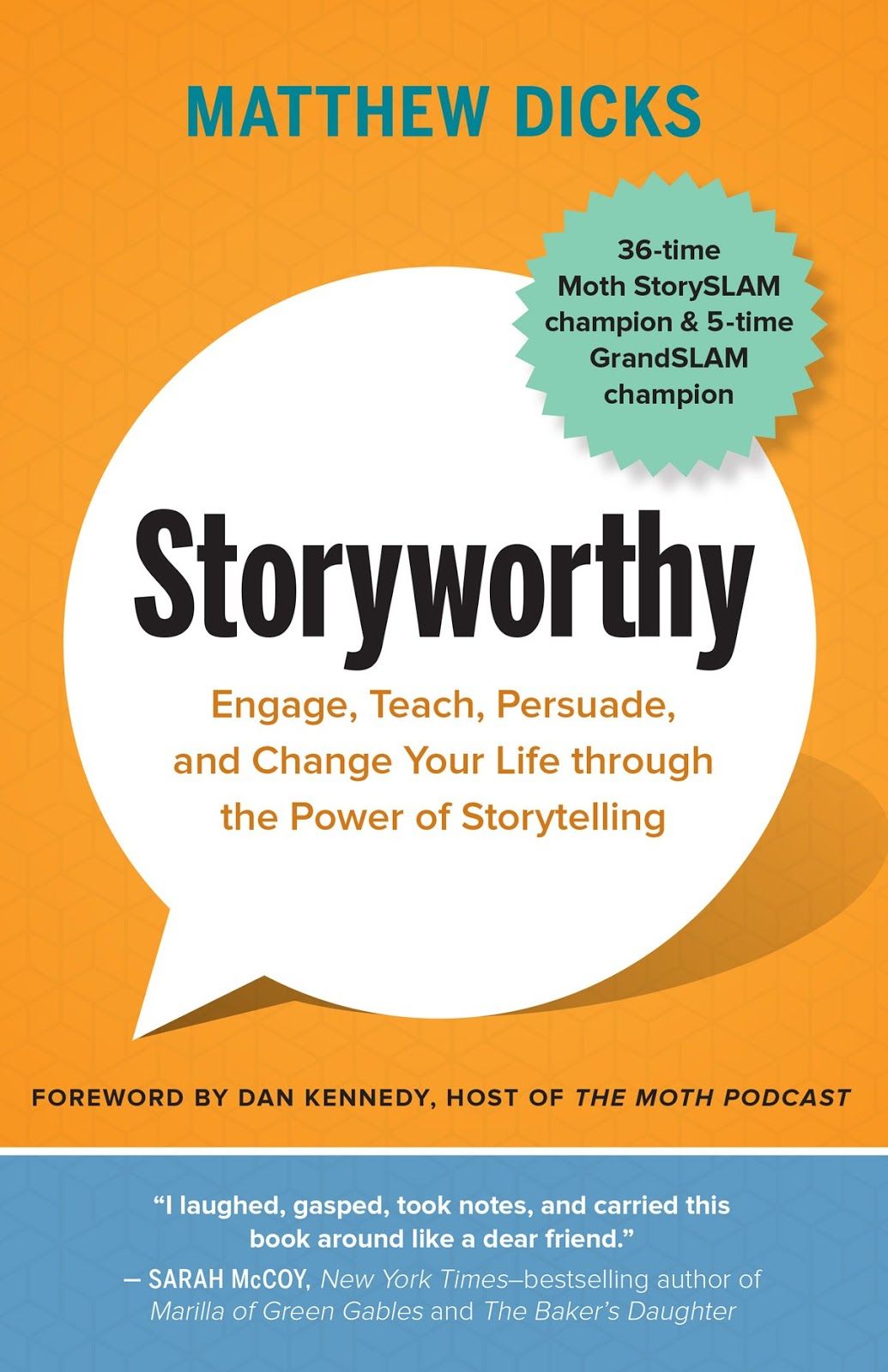 Storyworth: Engage, Teach, Persuade, and Change Your Life Through the Power of Storytelling - by Matthew Dicks
This is a great book for people who want to tell better stories or simply develop a unique perspective for looking at life.
Check It Out On Amazon - Click Here*
Thanks for reading. You can subscribe to receive updates by using the button below.
And, as always, please share your feedback and comments on Twitter. What are you reading and learning lately? Just say "Hi". Send a tweet to @jeremyajorg.