Journal
Where to Begin
My first goal is to "Share something small" on most days. I'm not sure I can commit to the everyday part.
This post may contain an affiliate link. As an Amazon Associate I earn from qualifying purchases. All affliiate links are marked with an asterisk (*).
When I first heard about blogging/publishing on the internet I was really excited at first. I figured out how to start a blog and plowed through all sorts of content containing tips, dos, and don'ts. And when everything was all set up I went to write and BOOM! Fear set in. Things kind of stalled out. Do I really want to put myself out there? What will people think?
Fast forward...a couple of days ago I was spinning on my bike trainer and came across a YouTube video by Ali Abdaal called "How to Build a Website in 2021". He makes a great case for everyone to have their own website. It's well worth a watch. In his video he also mentions a book by Austin Kleon* called "Show Your Work!"* I purchased his book, read it and now here I am. I'll write more about the book in another post but the review below points to my favorite parts where the author talks about the benefits of "Sharing something small every day."
"It's not often that I find myself reviewing a book that I can say has already changed my life. . . . At a crucial turn in this fabulous little wallop of a book comes the simple directive, 'Share something small every day.' That 'something' oughtn't be your Instagrammed latte or a selfie, but something 'useful or interesting' about your work. Put enough somethings out there, and a lone artist or entrepreneur can soon be a productive part of a creative community."
―BookPage
My first goal is to "Share something small" on most days. I'm not sure I can commit to the everyday part.
I spent some time thinking about potential topics I want to explore and snapped a photo. Here is something small for today. I'll just keep brainstorming and also spend some time working on my handwriting. Looking at it in this big picture makes me kind of cringe.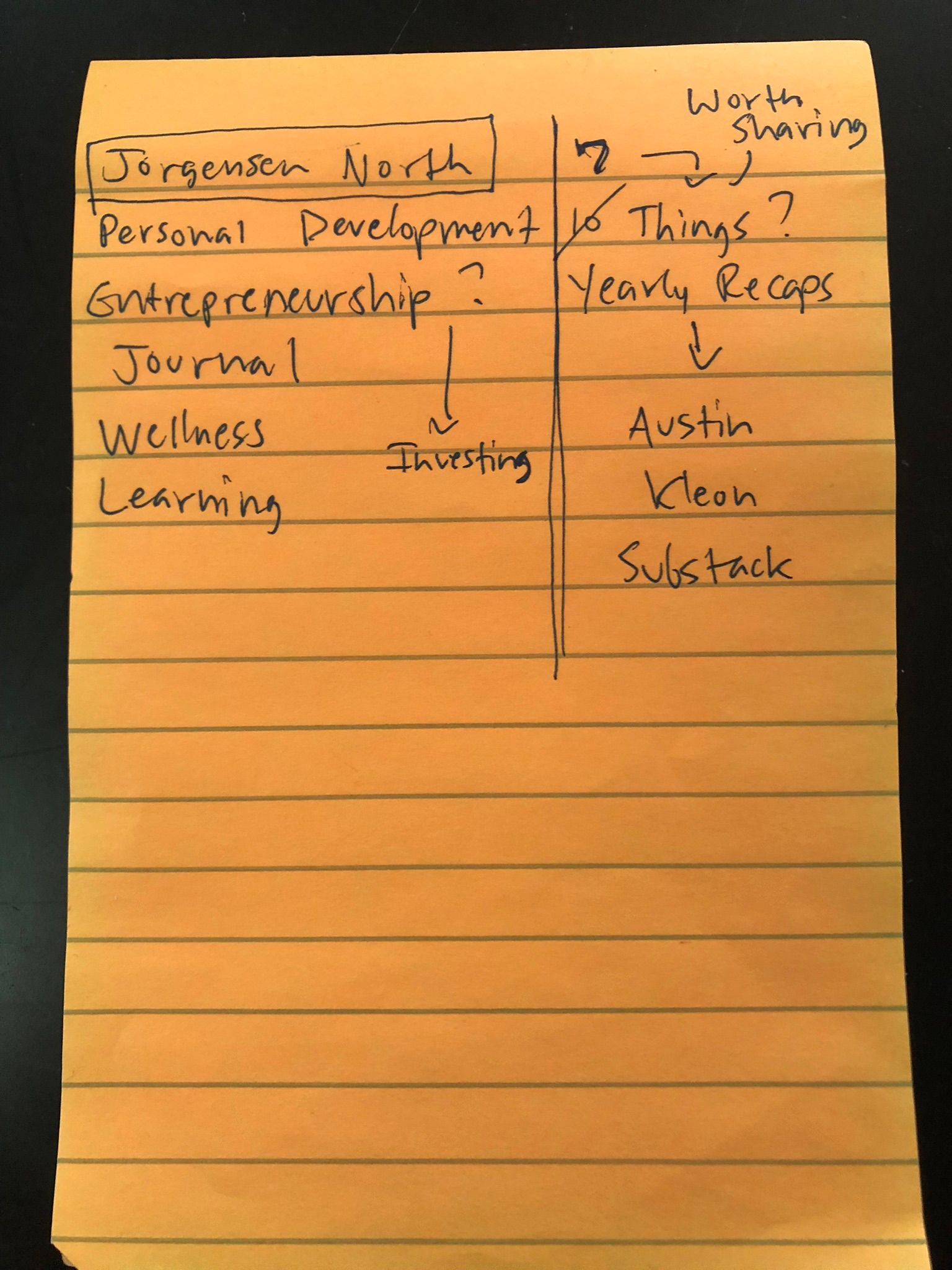 ❤ Enjoy this post?
Forward to a friend
and let them know where they can subscribe (hint:
it's here
). Send comments or just say "Hi" on Twitter -
@jeremyajorg
. If you haven't checked out the subscriber resources take a look
here
👀. Why Edify is a reader-supported publication. You can show your support by becoming a
monthly
or
yearly
member or by shopping for some of
my favorite gear
🙏.