Education
The Big List of Classroom Resources to Build Culture and Promote Belonging
Culture and Community Building Resources for the Classroom
As an Amazon Associate, I earn from qualifying purchases. All affiliate links are marked with an asterisk (*). Thank You! Read more here.
---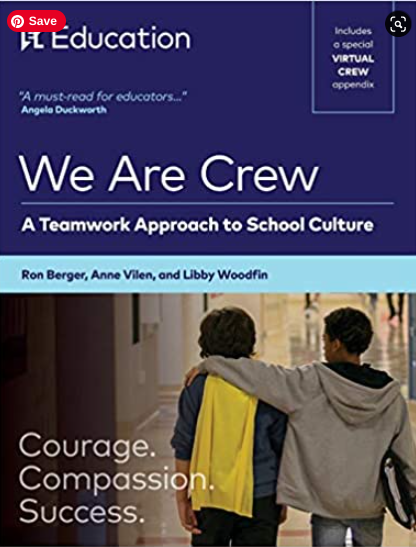 I've been wanting to put together this resource for me (and of course you) for some time. The school I teach at is an EL Education School. As part of our structure, we have CREW each day. This is our version of homeroom. This book* explains it all.
The structure of crew allows for relationship building, academic progress monitoring, and character development. Crew allows students to build positive connections with their peers and with their crew leader. Crew leaders strategically plan crew to address and assess these multiple goals.
Each day we meet for the first 25 minutes of the school day to accomplish the Crew goals. It takes extra planning, but it's worth it. This list of activities will be updated over time. I hope you find something that you can apply to your classroom. It really does help improve the culture and connections with my students.
School Culture Building Resources
Every Crew/Homeroom begins with a reading and greeting. Sometimes the teacher leads and sometimes the students. We always start in a circle. Some of the best Crew meetings happen when students lead them.
Habits of Scholarship Check - Each Monday students check their grades (We use Skyward) and missing assignments. They also check their email and Google Classroom assignment streams. We also check their planners, independent reading, and math fact progress.
Fun, Food, and/or Gratitude - Each student shares one or more of these and sometimes they pass. We usually do this on a Monday.
Each activity ends with a debrief where we look for takeaways and life lessons.
Is use the Kikori app for some of my team-building activities. I won't list those here. It's a good resource. There are some quality activity playlists on this app.
Create a "Thankful" list. This usually happens before Thanksgiving. But can happen anytime. Sometimes we call it a "Gratitude List".
Watch "Homework for Life" by Matthew Dicks. I recommend his book* as well. The students complete their "Homework for Life" for a week and then craft a one-minute speech that they share with their crew/homeroom. We usually use the range between 1-3 minutes. I model a story for them. I tell them the story of when I was caught stealing at the Red Owl Grocery store. My mom took me to the police station and made me confess to Officer Friendly. It was tough this year because my daughter was in my class. I was diminished in her eyes 😮‍💨.
The Thirty Day Challenge - We watch Matt Cutts give his Thirty Day Challenge Ted Talk. After that students take time to think about something they would like to try or give up for the next thirty days. They track their progress in their planners and after thirty days we debrief. It leads to good conversations around goal setting and overcoming challenges.
3 A's of Awesome - this is an inspirational talk focusing on Awareness, Authenticity, and Attitude.
33+ Team Building Activities for Kids - A nice selection of team-building resources.
Buddies - I teach 8th graders in a Pre-K - 8 school. Our 8th graders are paired with second graders. We get together for all sorts of fun activities throughout the year. It's a win-win. Second graders get an older student to interact with and 8th graders get leadership practice. Each student in our school has a buddy.
16 Team Building Activities For Middle School (With Video Examples) - a resource I have bookmarked
5 Team-Building Activities in the Middle School Classroom Students Love - a resource I have bookmarked
Team-Building Activities for Middle School - bookmarked resource
Everyday Leadership - Students learn what a "lollipop moment" is along with the power of simple positive actions. It's even better when they get a Tootsie Pop after watching, only if they agree to create a Lollipop Moment. When we work with our second-grade buddies we reference this video.
10 Fun Team-Building Activities for Middle School - another resource I have bookmarked
Student SOLO - Solitude and Reflection - sometimes we try to take a pause from stress and commotion with a SOLO. It's good practice for students to learn how to slow down and be still. Check out the SOLO resource download at the end of this post.
Beware of the procrastination monkey 🐒. I try to save this video for the end of the year when we start to get ready for portfolio passage presentations. It's funny and the message conveyed is helpful for students who might struggle with deadlines. It's also helpful for me to rewatch it each year.
🗣 Game - Head, Shoulders, Knees, Cup - Students pair off. The teacher randomly says either head, shoulders, knees, or cup. When the students hear cup they have to grab the cup in front of them before their opponent. The winner pairs off against another winner until there is only one student remaining.
STEM Challenges - Turn your classroom into a Makerspace and provide students with design and engineering challenges. Maker education provides an avenue to help students build their social-emotional skills.
Resources:
Thanks for reading. I'll update this post as I create or come across new activities.
❤ Enjoy this post?
Forward to a friend
and let them know where they can subscribe (hint:
it's here
). Send comments or just say "Hi" on Twitter -
@jeremyajorg
. If you haven't checked out the subscriber resources take a look
here
👀. Why Edify is a reader-supported publication. You can show your support by sharing this article,
buying me a cup of
☕, or shopping for some of
my favorite gear
🙏.