TGIF
T.G.I.F. Newsletter - Procrastination, Stereotypes, and Happiness
In this edition of the T.G.I.F. newsletter: Explore ways to combat procrastination and why girls don't study physics, and more.
As an Amazon Associate, I earn from qualifying purchases. All affiliate links are marked with an asterisk (*). Thank You! Read more here.
---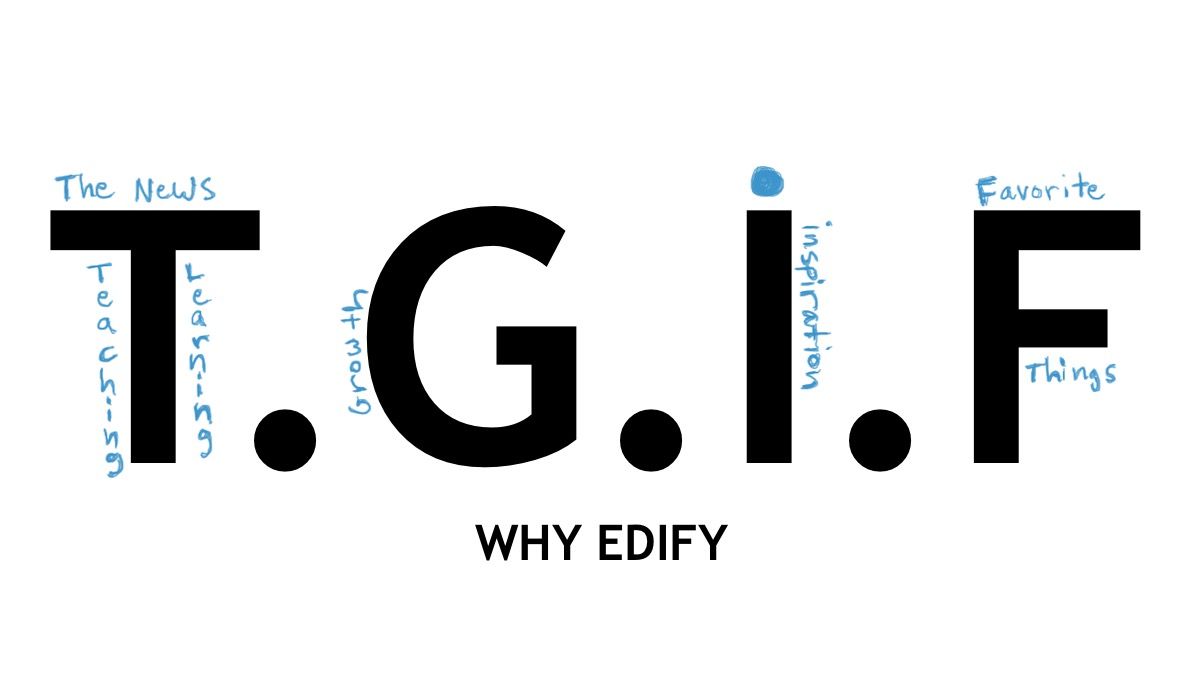 Procrastination, Stereotypes, and Happiness
Hello Friends and T.G.I.F. 😁 Here are some things I thought were worth sharing this week.
The News
Here are some articles that grabbed my attention.
With the school year winding down, procrastination becomes an issue for some students. Here are some tips to help students overcome procrastination.
There are stereotypes as to why girls don't study physics. One such stereotype is that they don't like math. In fact, it looks like one of the reasons is that they don't get the same level of support from their teachers.
If you want to witness a picture of joy, watch kids run around at recess. Many states are trying to pass laws to make it against the rules to take away recess as a punishment. I didn't even know there was such a thing as "shadow discipline".
Here's a warning about teens and social media. This student podcasting winner has lessons we all should learn.
Teaching in the U.S. vs. the Rest of the World. This video was new to me although it's a few years old. There are some ideas we could borrow from other countries that would improve teaching and education in the U.S.
Growth
Personal Development and Wellness Resources
You're never too old to learn something new. We started watching "Black-ish". It's clever and funny. Anthony Anderson went back to finish what he started at Howard University after receiving encouragement from his son.
Can the pursuit of happiness cause more harm than good? Maybe we should focus on how people can find contentment.
Inspiration
Here is a quote I've been revisiting this week:
"The key to pursuing excellence is to embrace an organic, long-term learning process, and not to live in a shell of static, safe mediocrity. Usually, growth comes at the expense of previous comfort or safety." (Josh Waitzkin, The Art of Learning*)
Favorite Things
🎶 The iPod - It's being discontinued. I still have my 10-gig 1st generation device. I absolutely got my money's worth. So long.
⚡ Gadget - This magnetic levitating globe* would be a hit on my front lab station. I prefer the blue model. It's the perfect companion to the Newton's Cradle already there.
🎓 Senior Celebration - This tradition honors all of the seniors that attended the elementary/middle school I teach at. It's amazing how much someone can grow in four years' time.
❤ Enjoy this newsletter?
Forward to a friend
and let them know where they can subscribe (hint:
it's here
). Send comments or just say "Hi" on Twitter -
@jeremyajorg
. If you haven't checked out the subscriber resources take a look
here
👀. This newsletter is a reader-supported publication. You can show your support by becoming a
monthly
or
yearly
member or by shopping for some of
my favorite gear
🙏.
P.S. Recommendation: Fabulous. Born at Duke University, Fabulous uses behavioral science to help people make smart changes and build healthy habits. It's helped me build a solid morning routine. Build self-discipline and create positive structures in your daily life. After answering a series of questions Fabulous will build a plan just for you. Start building new habits with Fabulous today.